Skip Navigation
Website Accessibility
Breakfast
Time Served:
Varies
Serving Location:
By the lake, Breakfast Room, Breakfast/dining area, Dining Room.
Special Meal Options:
Low fat, Restrictive, Vegetarian. We cater to your needs. Just tell us what your expectations are.
Our Signature Dish

Swan Song Stuffed French Toast
This specialty dish is amazing as it melts in your mouth. The locally made fresh country hearth bread is cut on the diagonal to give you a large portion that has been dipped in the richest sweet custard after the not too sweet cream cheese filling has been applied. Grilled to perfection and placed on your warm plate with our special homemade blackberry reduction syrup, powdered sugar, and whipped cream top this off. Paired with locally cured country bacon, fruit and juice this is a winner. (Note: sometimes we substitute bananas foster instead of blackberries for the topping)
check availability
Guest Rooms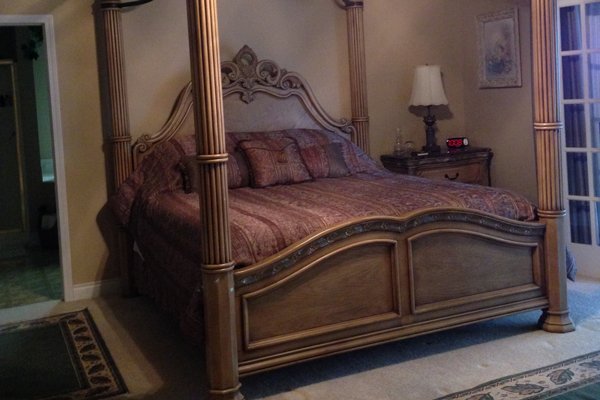 When you sit down on your custom made king size Swan Song Mattress and sink back into the luxury pillows you will know you made the right choice. Our 3, two room suites offer you the space to relax and enjoy yourself.The suites all have Jacuzzi tubs and fireplaces.
Breakfast
Breakfast at Swan Song Inn is served from 8am - 10am. Our signature dish is our amazing Stuffed French Toast. This specialty dish melts in your mouth and you'll be begging us for the recipe!