Skip Navigation
Website Accessibility
Contact Us
Thank you for your interest in the Swan Song Inn. Contact us and we will be happy to help in any way we can!

Swan Song Inn
583 Spring Valley Loop
Marshfield, Missouri 65706

Phone: (417)-859-0140

Email: stay@swansonginn.com


Maps & Directions
Do not use Google Maps with our address until you are at the Marshfield exit on Hwy 44. This is exit 100. You are only 7 miles away. :) Turn off Hwy 44 at exit 100 and go South on 38 and turn left onto Jefferson at the stoplight. Follow this to the Hwy CC ( Hubble ) make a left onto Hwy CC. Follow this a couple miles to Elm on your right. There is a golf course at this turn. Follow just a bit and make a left onto Golf Course road. (There is a silo on the golf course at this turn) Go a couple miles and you will see a double arrow sign at the end of the road, make a left here onto Settlers Trail. Follow till it ends ( you will see a driveway at the end, DO NOT go in there), make a right onto Phoenix. This road will make a 90 degree curve, follow and you will see Spring Valley Loop on your right. Follow Spring Valley Loop until the blacktop ends, look forward and you will see our white fences. Make a left into our gated driveway. You have arrived at your Destination for Relaxation.


check availability
Guest Rooms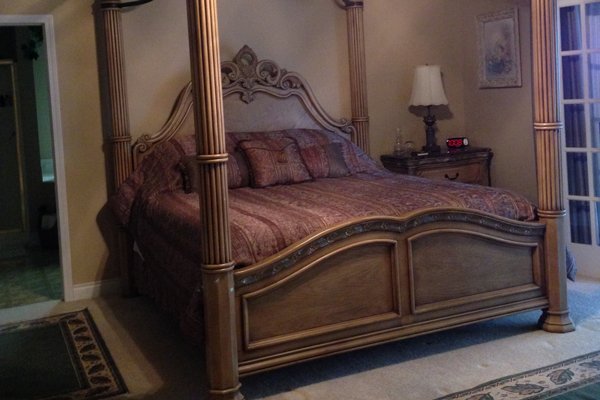 When you sit down on your custom made king size Swan Song Mattress and sink back into the luxury pillows you will know you made the right choice. Our 3, two room suites offer you the space to relax and enjoy yourself.The suites all have Jacuzzi tubs and fireplaces.
Breakfast
Breakfast at Swan Song Inn is served from 8am - 10am. Our signature dish is our amazing Stuffed French Toast. This specialty dish melts in your mouth and you'll be begging us for the recipe!